On our website:

Miscellaneous Kokomo Area Obituary Index
Logansport Pharos Tribune Obituary Index
Howard County Cemeteries plus great links to other neighboring area cemeteries
Our Genealogy
Links to our other websites:
INDIANA LINKS-offsite
INGenWeb - The Place for Indiana Genealogy Research
INDIANA MARRIAGE DATABASE - to 1850
INDIANA MARRIAGE DATABASE - 1958 - 2020
INDIANA MARRIAGES - 1993 - recent
Indiana Newspapers available on microfilm at the State Library
Indiana State Archives - Searchable Databases
Funeral Homes in Howard County
Funeral Homes in Cass County

Funeral Homes in Miami County

Funeral Homes in Tipton County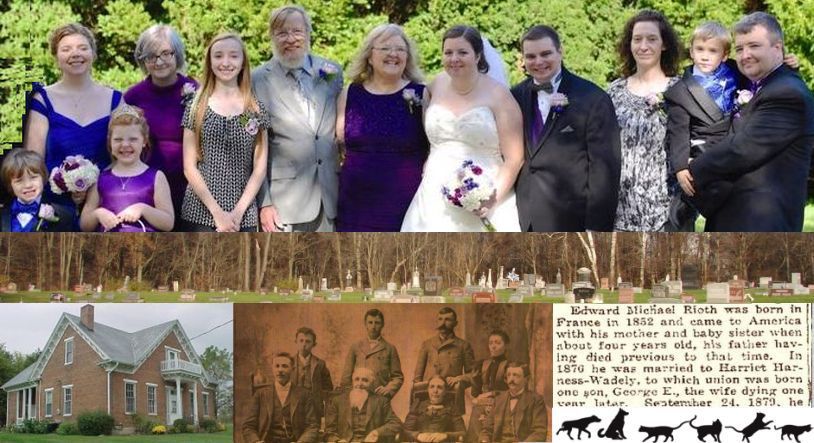 Photo credit to Jasmine Norris Photography

We are a married couple (since 1972) living in north central Indiana. We became involved with cemetery research as an extension of our interest in genealogy in about 1995.

We have 3 adult children, a daughter-in-law and 1 son-in-law, 3 granddaughters, 4 grandsons ... We are abuntantly blessed.

1 granddog, 7 grandcats & 1 great grandcat.
With the pandemic, things have changed. Many are not having public funeral services for their loved ones. Some are not even publishing an obituary due to high costs. We depend on obituaries from funeral homes and newspapers for information on place of interment. We are happy to add your loved one's name, dates of birth and death and/or a picture of their grave marker if you will provide this for cemeteries in Howard, Cass and Miami Counties. Each cemetery has contact information on each page. We don't want your loved ones left out.

What's New?
This page Updated 13 March 2022